Draft Dashboard Review
The NBA Season is about to kick-off, and many will be making the most of the many different types of Daily Fantasy Platforms there are out there to win massive prizes.
Whether you are new to Daily Fantasy Sports or a seasoned player, there are a few decent options in terms of helping picking lineups.
Matching it with some of the best DFS Players requires a lot of research, patience and discipline. It always helps to use a platform that does a lot of the research for you.
Draft Dashboard is one of the leaders in terms of helping Daily Fantasy Players construct lineups and find the best value daily. This is vital for staying in the cash and having a decent shot at winning a jackpot. Draft Dashboard will save consumers a lot of time as all the information that is needed to construct a specific lineup can be found in one spot.
To be competitive in the DFS space, participants need to do a lot of research. This includes and analysis of the matches for a specific day. The best scenarios in terms of defence vs position as well as projecting how many minutes a player might get to achieve the greatest value. There are many more aspects to look at, and the guys at Draft Dashboard are the best at making it simple and reducing all the clutter which puts off a lot of new players.
Here is a Draft Dashboard Review and some of the features and benefits.
Draft Dashboard is among the best DFS tools to construct top-performing lineups. There are several features and benefits to joining the platform, but the best thing is that it is easy to navigate and lineups can be created in a simplistic fashion.

Features
Daily Fantasy Optimizer
This tool makes it incredibly easy to generate lineups for the chosen DFS Competition a player wishes to participate in. Players Stats, previous performances and projected score can be found here, and it makes it very easy to add players in as a lock, to build other lineups.
One of the best tools here is the previous recent score history for each player. This is in an easy to see spot and participants don't need to leave the platform to find this vital information.
Position Optimizer
The Position Optimizer will help finish a lineup and help choose the best possible player for the selected platform. The position optimizer tool works with NFL, NBA, MLB and NHL and allows you to choose which game slate you're building your lineup for and will show you the recommended players for those positions during those times.
The Players are all listed by Dash Rank and Salary to make it very easy to choose the best performing players for any given slate.
The best thing about the position optimizer is the fact that the PACE of a specific match is displayed right under the player's name. The Pace is determined by how many possessions the specific matchup is projected to have. The more possessions, the faster pace and potential big fantasy scores.
Another excellent tool is the specific stats for the players. These include their highest and lowest score for the season and their scores in the last five games. The Projected Value for the given matchup also makes it easy to choose a Stud.
Recent news is also displayed in this area which is vital if a player may be carrying an injury.
Other features include fantasy average, minutes per game and the projected points they may score for the coming matchup. Players can then be added to a watch list and lineups can be constructed to match it with the best.
Finding the DFS Sleepers
The Find Sleepers tool will help participants find cheaper players who have been performing well lately but aren't on most participants radar. You can use these players to finish off a DFS lineup. Sleepers are great low-cost productive fantasy players. These are players that are cheap and achieving value on a consistent basis or have the potential to. (This saves a lot of research time as these types of players allow a participant to get access to the big scoring guns like James Harden, Lebron James or Giannis Antetokounmpo.
Daily Fantasy Advice
If you are new to the DFS space and want some help with constructing lineups, the DFS perfect lineups tool may be of some help. There are many lineups that have been built based on an algorithm that has proven to work consistently. The Perfect lineups tool is a great place to start if you're looking for DFS advice and help with building a lineup for a particular sport.
These lineups are not final, but are a good starting point and can be optimized to how a participant wishes. Mixing the tools with your knowledge of the game can be an excellent recipe for success in the DFS space. Draft Dashboard will help players save a lot of time to build winning lineups.
Daily Fantasy Sports (DFS) is a form of fantasy sports gameplay where participants build virtual teams of professional athletes and compete against each other based on the statistical performance of those athletes in real-world games. Unlike traditional fantasy sports, where teams are typically managed over the course of an entire season, DFS contests are usually conducted over a shorter duration, ranging from a single day to a week.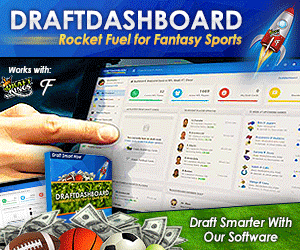 The Weeks Studs
Fantasy studs are the DFS players who have scored the most points over the past week. These are low risk, proven players who are consistently scoring the most fantasy points. Participants always want to try and play a couple of guns in daily fantasy lineups or build lineups around studs.
At the end of the day, scoring points is needed, and if you have a couple of studs that light it up and the other players in the lineup achieve their projected value, you will finish in the cash.
This is an easy spot to find the best performing players without having to do hours of research.
The Team Browser
Get all the information you need for your upcoming DFS matches with the team tools feature. This information can be gathered online, but that can take a lot of time. Why not have it all in one convenient place? Quickly browse the player depth charts, see injuries, rankings, and all the details a participant needs to make smarter decisions when building a winning lineup.
This also displays all the information on the teams playing for that day. No need to browse websites and have several different browsers open. Have all the required information in one simple place.
Top Fantasy Players Tool
Use this tool to find the best players that may be playing on a given day. All the player information is here, including injuries and statistical averages. The best part is the likelihood of whether or not a player will score big by using the exceptional dash rank. This tool works for NFL, NBA, MLB and NFL and is updated 24/7 live.
Conclusion
All in all the Draft Dashboard DFS Platform is one of the best Daily Fantasy Sports Optimizers to help construct winning lineups. All the information, including stats, player news, injuries, projected scores, matchups and building lineups is included in an easy to navigate space.
If you want to win consistently playing DFS and don't have the time to do hours of research, then be sure to give Draft Dashboard a try. The best Daily Fantasy Tool on the current market.